Blog
Season Recap With FL 7A State Champions, St. Thomas Aquinas Raiders
After a nearly undefeated season, ending in a State Championship victory over Tampa Bay Tech (another GameStrat Team), we sat down with Assistant Head Coach Stevin Scott out of St. Thomas Aquinas High School in Fort Lauderdale, FL to talk about the contributions GameStrat made this past season to their highly successful program.
STA had been considering making the switch from Sportscope Edge Replay to GameStrat for a while and finally decided to make the leap in the middle of the 2021 season.
My biggest regret is that I did not switch over sooner.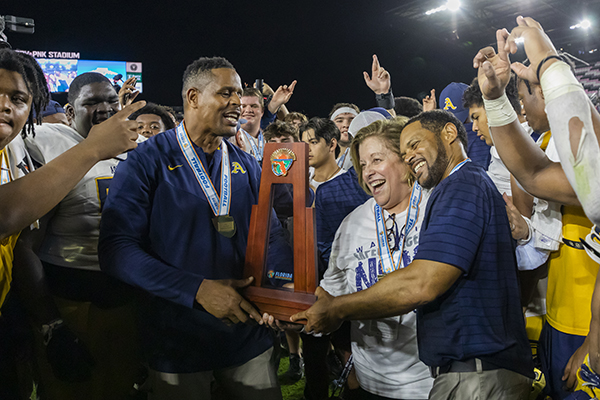 Photo By:
Jonathan Martinez
Coach Scott began by explaining the initial transition from Sportscope Edge Replay.
It was an extremely positive change. We didn't lose any end zone or press box film with GameStrat and that was a big difference. It was almost night and day because I went from using Sportscope where I was hoping and praying that connection wouldn't drop.
Photo By:
Jonathan Martinez
The team made the switch mid-season, which may sound like a stressful experience. However, the transition to GameStrat ended up being an extremely smooth process according to Coach Scott.
Delivery was quick - I called on a Monday and we got it on a Thursday. The training was very quick and we did all in one day. I called in about an hour before our game just to go over everything again and it was perfect. There were no flaws and I was able to upload film from the laptop in the press box right to Hudl which saved me a lot of time. Overall, it was a really fast and easy transition.
Photo By:
Jonathan Martinez
For Coach Scott, the switch to GameStrat has completely restored their faith in sideline replay as a whole.
My biggest regret is that I did not switch over sooner. I had purchased Sportscope but it did not live up to expectations, so I called GameStrat. Delivery was quick, we were quick to get it set up, and everything worked perfectly from there.
GameStrat appreciates the opportunity to work with phenomenal programs such as STA Football and we wish them another successful season next fall!