GameStrat Football
Sideline Instant replay for football teams
Why coaches are switching to GameStrat

Reliable.
Unlike our competition, we never drop a connection or stop working, so you don't stress at game time.
It just works.

Instant.
The plays are always there when you need them.
Zero loading time.

Simple.
Plug and play system. So simple anyone can do it.

Support
Phone support on game days to fix any issues you may have.

also...
Uploads easily to Hudl
Is compatible with Hudl Focus & Pixellot
Only requires 1 person to operate
Doesn't require WiFi or Internet at your stadium
Doesn't require an end zone laptop
Features
Automated tagging

Multi-Angle Recording

Picture in Picture

Telestration

Easy Controls

Play Filtering

Flag & Favorite

Tag Editing

Pinch to Zoom

Exporting

Reports & Stats

Virtual Whiteboard
Predictive and Automated Tagging

One Operator for Two Angles

Switch Between Angles With a Tap

Draw On The Video

Full Control at Your Finger Tips

Find Exactly What You're Looking For

Mark Plays to Quickly Find Later

Input or Change Tags

Zoom In to Get a Closer Look

Upload or Export Videos & Breakdown Data

Real-Time Reporting

Draw Up Plays and Schemes

Packages
Premium
Press Box & End Zone Angles
$1975
/ Season
Advanced & Automated Tagging

Export Video & Breakdown Data

Game Day Support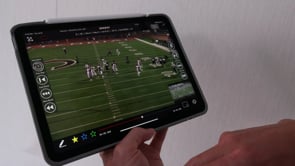 Overview Video
GameStrat Football - Premium Overview
Pro
Press Box Angle
$1175
/ Season
Advanced & Automated Tagging

Export Video & Breakdown Data

Game Day Support
Overview Video
GameStrat Football - Pro Press Box Overview
GameStrat knows that every team has their own unique setup.
We have many options to choose from and we can also provide custom solutions.
*Our prices above are for high schools only. For any other inquiry, please contact us.
Interested in GameStrat?
FAQ
What does GameStrat's support look like?

GameStrat has game day phone support hours during the football season to make sure that we're always available to help if something comes up leading up to or during your game. Our regular business hours are Monday to Friday 9am - 5pm ET, however during the fall months on Thursdays, Fridays and Saturdays, our phone hours go from 9am - 12am ET.

Does GameStrat work with Hudl?

Yes GameStrat is perfectly compatible with Hudl. All of the video and breakdown data at the end of the game can easily be exported in a few seconds.

Check out this article

for more details.

How do I upload to Hudl?

All of the video and tags at the end of the game will be stored on your press box laptop. You can either use Hudl's Upload feature or Hudl Mercury to get the video imported into Hudl.

Check out this article

for more details.

Do I need Wi-Fi or Internet at my stadium?

No you do not need any WiFi or Internet at your stadium. We provide you with all of the networking equipment necessary to run GameStrat whether you're at home or on the road.

What type of laptop do I need?

You will require at least 1 laptop to run GameStrat. This is what does all the heavy lifting for the entire system. Everything from encoding and transferring video, to making sure that all iPads always maintain a strong connection and receive every video.

You can either use a Mac or Windows 64-bit operating system (we currently do not support Chromebooks). We always recommend testing out any school or personal computers you have prior to making any new purchase.

Our recommended specs for laptops are:

4GB RAM (or more)
USB 3.0 or adapter
Gigabit Ethernet Port or adapter
Processor

Intel or AMD processor.
ARM not supported.
i5 or better.
Intel or M series processor.
i5 or better.

Operating System

Windows 7+
Mac OS X Monterey 12 or later

What iPads are compatible with GameStrat?

GameStrat currently supports any iPad with iOS 15.0 or later, but we always recommend to update the iOS to the latest version, which is currently iPadOS (iOS 15.0+). Here is a list of

supported iPads

How many iPads can I use?

With GameStrat you can have up to 10 viewing devices (iPad or iPhone)
What does GameStrat Cost?

Depending on the package, GameStrat costs anywhere between $1175 - $1975 in year 1, and then we also have discounted renewal tiers based on how early you make the next year's payment.

How fast do videos download?

Videos download

INSTANTLY

. Even if you have 10 iPads running and send a 60 second video down, they will download it instantly with no lag time.

Check out this article

for more info.

How long does setup take?

Setup takes about 5-10 minutes total regardless of the package.

How many people are required to run GameStrat?

Only ONE person is required to setup and run GameStrat for all of our packages.

How fast will we receive our hardware once we order GameStrat?

We guarantee that within 2 weeks of receiving payment that you will have received your GameStrat hardware. Some exceptions could be communicated at the time of purchase due to potential supply chain delays

What is sideline replay?

Sideline replay is a video system that lets high school football coaches watch instant replay on iPads immediately on the sidelines or up in the press box. Football coaches trust GameStrat for sideline replay because it's the most reliable and easiest system to use on the market.

Do I need power in the end zone?

You will require some sort of power source in the end zone, whether that's by running an extension cord, having a portable battery pack or by running a generator.