Blog
Sideline Replay Systems: What to Look For
Technology is now dominating high school football. While watching film is nothing new, instant replay systems on the sidelines of Friday nights is becoming increasingly more common.
Here are the top 7 things you should look for when comparing sideline replay systems:
1. Reliability
Most teams use their sideline replay system religiously and it's something that's very entrenched into their game day operations. If you're stuck worrying whether your sideline replay system will work on any given Friday night, you really have to ask yourself why you're even spending your hard earned budget on that system in the first place. Some instant replay systems have the misfortune of constantly disconnecting from the host server. Others are plagued with problems of missing video clips. GameStrat doesn't face either of those problems. Unlike the competition, GameStrat maintains a constant and reliable network connection between the connected devices and the router. It also saves every clip recorded, so you won't miss any of the action.
2. Video Transfer Speed
As a coach, you have a million things going on during the game and waiting for a video to load is the last thing you want to worry about. When it comes to network speed, GameStrat is the fastest among its competitors. From the press box to the sidelines, regardless of video length, all connected devices will receive the video instantly. Other systems have much slower receiving times, making GameStrat's software superior to the rest. Any delay could be crucial during a game, so why not go with the fastest?
3. Quick Setup
Depending on how many responsibilities you have on game day, you really can't be wasting an hour or 2 setting up your sideline replay system. Especially on road games where there could be unexpected delays and you may be tight on time, things should really be as simple as plug and play. First-time users can set up GameStrat in under ten minutes. It takes only one person to set up, making it the simplest instant replay system setup on the market. Once the router is plugged in, face it to the sideline and open the app on all devices. If you're running a two-angle system, you will need 2 additional routers, but it still only requires one person to set up and operate. Both the sideline and end zone angles are simultaneously controlled from the press box laptop.
4. Simple to Use
On any given Friday night, there could be tens of different people picking up the iPad to review or give feedback on a certain play. With any sideline replay system, a coach needs to be able to pick up the iPad and instantly know how to navigate and use the application. If it's not intuitive or easy to use, you could be wasting precious seconds before a crucial 3rd and 1 situation. Even if you aren't tech savvy, GameStrat has a clean and easy-to-use interface. While the idea of searching for a clip in the middle of a game may not be your first thought, it can sure be annoying if you're tight on time and are scrolling through 60+ plays. GameStrat has the most tagging options available to make searching for a video quick and easy. Coaches can input the quarter, series, down, distance, yard line, hash, run or pass, result of the play, and the gain or loss. You can also choose which tags to use since each one can be turned on or off as needed. With GameStrat's advanced and automated tagging, it has never been easier to tag a clip. The system automatically prompts users to input results and also calculates the next down, distance and even gain loss. On the iPads, you can then filter through tags to find exactly what you're looking for while flagging and favoriting videos for a quick recall.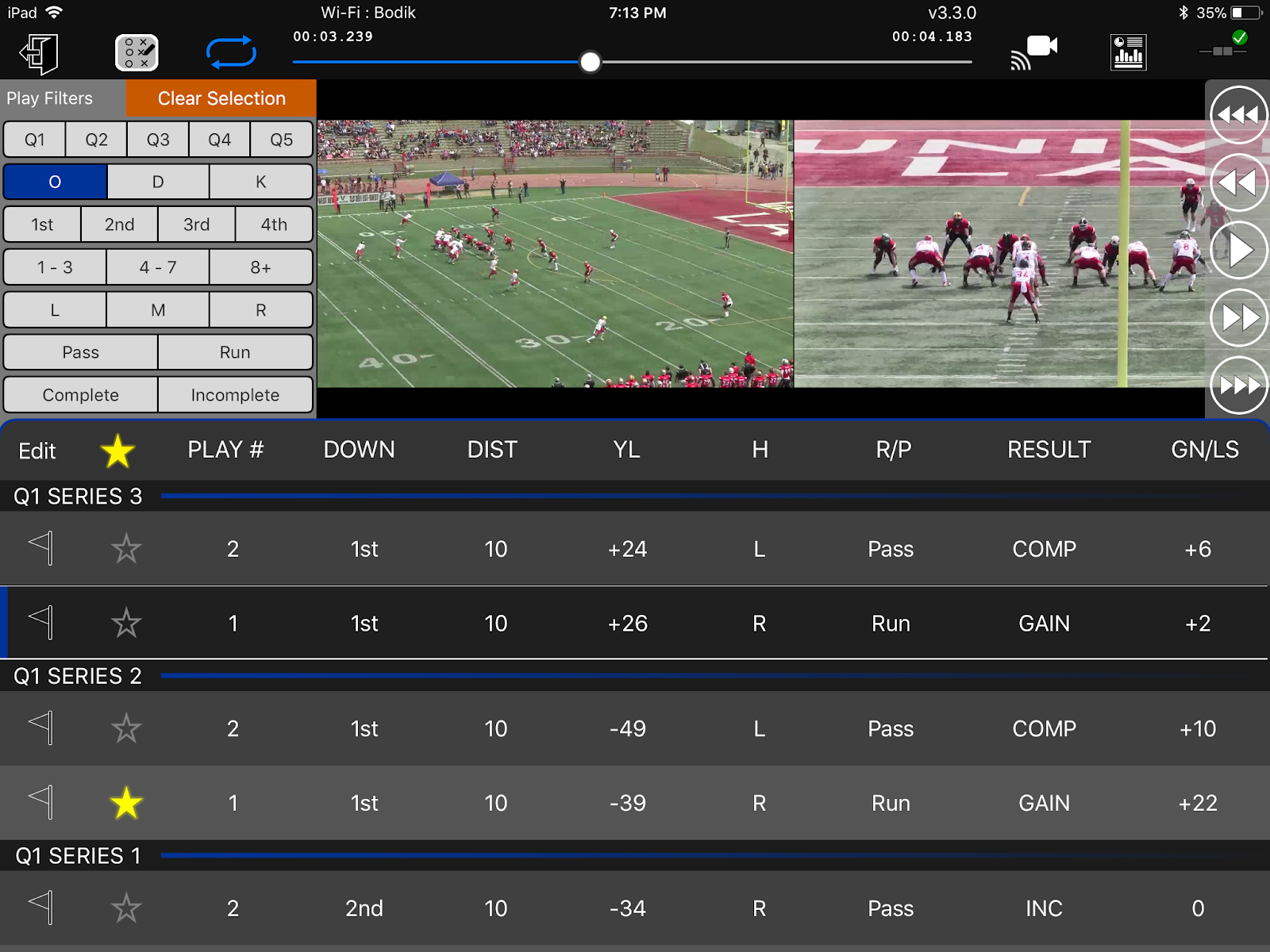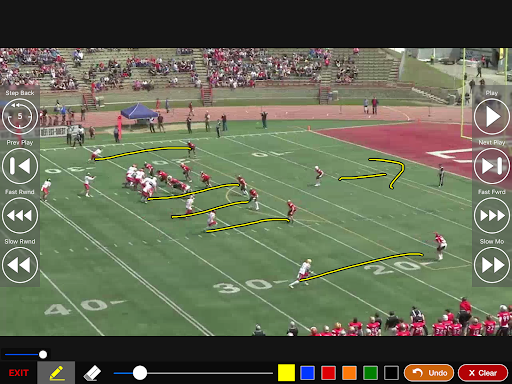 5. Video Saved Offline
This is crucial because coaches often take their iPads to the locker room at half time or even want to watch video on the bus ride home after a game. With GameStrat, coaches can pull up any video completely offline without having access to the Internet.
6. Export Capabilities
Some coaches rely on their sideline replay system to capture all of their film exchange, so this is an absolute must have. Other coaches still prefer having their cameras do the video recording and they use GameStrat as a backup just incase their filmers may forget to press record at the right time. Outside of having your entire game fully intercut and being able to export the video into Hudl, GameStrat also generates a .csv file with the entire game breakdown data which can be easily imported into your Hudl playlist. Thankfully we're one step ahead and yes, all of the tags do match Hudl's default tags, meaning that everything captured in GameStrat will auto-populate and your post game breakdown will be complete.
7. Support & Training
With any technology there's always something that can come up or go wrong. You want to know that when things hit the fan, that somebody's got your back and can get you back up and running. At GameStrat, with any new team that signs up, we always go through a personalized training session over video conference to make sure things get started off on the right foot. From there, if you are ever stuck, we also have a 24/7 customer support system in place, especially on game day. Even if it's a simple question or a technical issue, call our support line and you'll be taken care of.